Beard Transplant & Restoration Case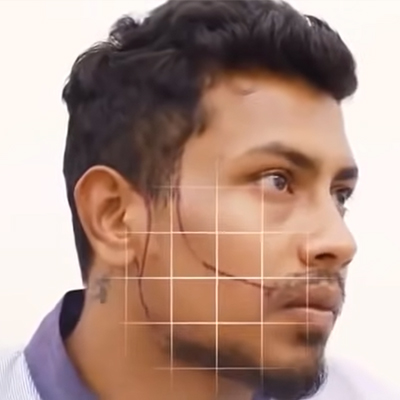 Patient Feedback- Pranav Kumar speaks about his beard transplant experience.
Beard Transplant & Restoration Case,6 months results, 5431 hair implanted, Session Duration 5 hours. Watch the video to know more.
DHI Hair Transplant technique has made it possible to restore hair growth in any part of the body, including the face. Beard Transplant at DHI is a reliable way to achieve a thick, healthy, and natural beard. Till now, DHI has helped thousands of men, including businessmen, actors, and sportspersons, gain their confidence back with Beard Hair Transplant.
Pranav Kumar, an International Men's Physique Athlete, shared his experience of getting a beard transplant at DHI. Being an Athlete means you are a role model for many people. Also, you are surrounded by the limelight all the time. So, looking at their best at every moment becomes very important. In his interview with the DHI team, he mentioned that 'Beard restoration plays a major key in his personal life. He researched and realized that DHI is doing a good job, so he selected us.'
DHI Specialists consider the factors like age, facial features, profession, client expectations, and existing beard design while designing the beard. Beard Transplant performed on Pranav Kumar included the following steps:
Alopecia Diagnosis: DHI specialist diagnosed beard growth and problem preventing the hair from growing. The diagnosis was performed while considering psychological and medical aspects. It included recipient diagnosis, mathematical count of donor's hair, and dermatological examination.
Drawing of Beard Line: DHI specialist then thoroughly designed the beard line based on the requirements to offer the proper symmetry and density.
Extraction: The extraction of the hair follicles was done from the backside of the scalp, known as the safe donor area. The whole process was performed using minimally invasive tools, Titanium Coated Punch, to ensure the highest graft survival rate. DHI specialists maintain the transparency of the number of hair follicles used in the procedure.
Implantation: DHI India focuses on a one-step Implantation process and uses single-use patented fine needle implanters for the perfect angle, depth, and direction. It allows us to offer the most natural and gratified results. During the implantation process, the hair follicles were manually loaded in the patented DHI implanter, and then the DHI specialist implanted them in the beard area.
The DHI Special technique and patent equipment are used throughout the process to ensure the credibility of the Beard transplant and avoid side effects. Pranav Kumar was aware of the results and other aspects of the DHI beard transplant; he selected DHI India. DHI specialist implanted a total of 5,431 hair follicles in a session of 5 hours to offer desirable results to him.
Within six months, Pranav Kumar achieved fuller, natural, and dense beard growth and satisfactory results. Check out before and after images to understand how well beard restoration worked for Pranav.
Why choose DHI India for Beard Restoration?
DHI Group is a fast-growing and well-known hair transplant brand offering beard restoration in India. DHI clinics have the mantra to provide permanent and natural results to every patient; therefore, the entire procedure is performed by DHI specialists using the latest and most effective techniques and single-use, high-precision, and patent tools. The graft survival rate at DHI clinics is over 90%.
Other things you can expect from DHI Beard Restoration:
No Pain

No Scar

No Side Effects

100% Safety

Maximum Density

Lifetime Natural results.
Contact DHI India now if you are also willing to get Beard Restoration like Pranav Kumar.
Click here to Book your consultation with our expert doctors.